American Standard Version: a great version for reading the Bible.
Imagine having the possibility to take the Holy Bible anywhere you go.
Now you can download the American Standard Version ( ASV) free, on your mobile device and enjoy one of the most complete versions of the Bible.
Feed your knowledge and feel closer to Our Lord.
Spread God´s Word reading the ASV and strengthen your faith.
The American Standard Version is a revision of the King James version and was published in 1901.
It's also known as the Revised Version or American Standard Revised Bible or American Standard Version.
Four revisions were made for the American Standard Version: The Revised Standard Version , the Amplified Bible 1965 , the New American Standard Bible , and the Recovery Version .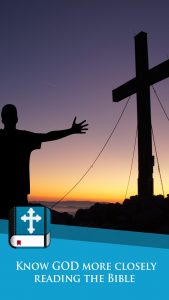 The App American Standard Bible offer the complete Bible, with the Old and the New Testament.
The Old Testament describes the history of the founding of Israel and contains 39 books:  ( Genesis, Exodus, Leviticus,  Numbers, Deuteronomy, Joshua, Judges, Ruth, 1 Samuel, 2 Samuel, 1 Kings, 2 Kings, 1 Chronicles, 2 Chronicles, Ezra, Nehemiah, Esther, Job, Psalms, Proverbs, Ecclesiastes, Song of Solomon, Isaiah, Jeremiah, Lamentations , Ezekiel, Daniel, Hosea, Joel, Amos, Obadiah, Jonah, Micah, Nahum, Habakkuk, Zephaniah, Haggai, Zechariah, Malachi)
The New Testament details the coming of Jesus to Earth and contains 27 books: (Matthew, Mark, Luke, John, Acts, Romans, 1 Corinthians, 2 Corinthians, Galatians, Ephesians, Philippians, Colossians, 1 Thessalonians, 2 Thessalonians, 1 Timothy, 2 Timothy, Titus,  Philemon, Hebrews, James, 1 Peter, 2 Peter, 1 John, 2 John, 3 John, Jude, Revelation)
Feel motivated with this fabulous app. Reading the Bible will change your life.
Read it together with your friends, when you feel motivated or sad. There´s always a good reason to read the Bible.
Once you download it and start reading it, you´ll strengthen your faith and you´ll see how things will get better.
Download the ASV free from Google Play Store and prepare yourself for a wonderful change in your life.