If you want to read and study the complete version of the Holy Bible used by Catholics you can download this app with a free version of the Catholic Public Domain Bible.
CPDV is a Catholic Bible comprising the canon recognized by the Catholic Church: 73 books.
Bibles used by Catholics are different from the Bibles used by Protestants. After the Reformation, Catholic Bibles remained unchanged and Protestants rejected the seven books called deuterocanonicals (Tobit, Judith, 1 and 2 Maccabees, Wisdom, Sirach, Baruch, parts of Esther and parts of Daniel)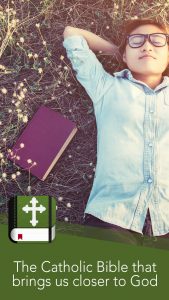 Protestants follow the canon of the Hebrew Bible, and Catholics base the Old Testament on the Septuagint, the translation of the Jewish Scripture into Greek. The result is that the Catholic Version have more books: 46 (Genesis, Exodus, Leviticus, Numbers, Deuteronomy, Joshua, Judges, Ruth, 1 Samuel, 2 Samuel, 1 Kings, 2 Kings, 1 Chronicles, 2 Chronicles, Ezra, Nehemiah, Esther, Job, Psalms, Proverbs, Ecclesiastes, Isaiah, Jeremiah, Lamentations, Ezekiel, Daniel, Hosea, Joel, Amos, Obadiah, Jonah, Micah, Nahum, Habakkuk, Zephaniah, Haggai, Zechariah, Malachi)
Catholics Old testaments include the 1st and 2nd Maccabees, Baruch, Tobit, Judith, The Wisdom of Solomon, Sirach (Ecclesiasticus), additions to Esther, and the stories of Susanna and Bel and the Dragon which are included in Daniel.
The Catholic and Protestant New Testaments are identical and contain 27 books: (Matthew, Mark, Luke, John, Acts, Romans, 1 Corinthians, 2 Corinthians, Galatians, Ephesians, Philippians, Colossians, 1 Thessalonians, 2 Thessalonians, 1 Timothy, 2 Timothy, Titus, Philemon, Hebrews, James, 1 Peter, 2 Peter, 1 John, 2 John, 3 John, Jude and Revelation)
Now you can enjoy free on your phone a complete version for Catholics! Free and easy to use, you can read this Bible app even without internet connection! Download, read and study it every day!