For all those who love the Holy Bible: Now you can enjoy this app with the most important Bible of all time: King James Bible.
The King James Bible (also known as the Authorized Version or King James Version) was ordered by the King James I and published in 1611.
This beautifully written Bible was the third translation into English to be approved by the Church of England.
Enjoy now the King James Bible, for free on your mobile device!
The Bible is the source of truth and inspiration, the revelation of Jesus, the true food for man's soul.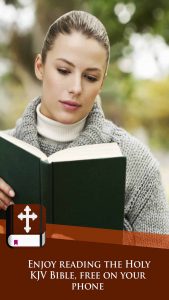 Share with your friends and loved ones your favorite verses and Psalms, encourage your friends to download this wonderful version and study the Bible together.
We offer the complete Bible, with the Old and the New Testament.
The Old Testament contains 39 books (Genesis, Exodus, Leviticus,  Numbers, Deuteronomy, Joshua, Judges, Ruth, 1 Samuel, 2 Samuel, 1 Kings, 2 Kings, 1 Chronicles, 2 Chronicles, Ezra, Nehemiah, Esther, Job, Psalms, Proverbs, Ecclesiastes, Song of Solomon, Isaiah, Jeremiah, Lamentations, Ezekiel, Daniel, Hosea, Joel, Amos, Obadiah, Jonah, Micah, Nahum, Habakkuk, Zephaniah, Haggai, Zechariah, Malachi )
The New Testament contains 27 books (Matthew, Mark, Luke, John, Acts, Romans, 1 Corinthians, 2 Corinthians, Galatians, Ephesians, Philippians, Colossians, 1 Thessalonians, 2 Thessalonians, 1 Timothy, 2 Timothy, Titus,  Philemon, Hebrews, James, 1 Peter, 2 Peter, 1 John, 2 John, 3 John, Jude, Revelation)
This is the version of the Holy Bible you will love to read. A beautiful Bible online that you can take anywhere and read whenever you want, making your day special.
Download and read King James version of the Bible, the best inspiring way to start your day!